Our events
Learn in your own time
How to Become a Thought Leader on LinkedIn
featuring Margaret Yeung
July 7th 2020, 8Pm est – free
LinkedIn is a great tool for developing valuable, professional relationships – but having over 500 connections doesn't equate to a useful network. In the Age of free-flowing Information and endless competition, success can't be earned without putting yourself out there. People trust businesses that put a face to the name, and LinkedIn can be a bank of opportunity if you know how to tap into it. The only way to achieve that is to consistently pump out content that meets your connections' demands, in a strong, crafted voice and persona that they can trust. That's when they start coming to you.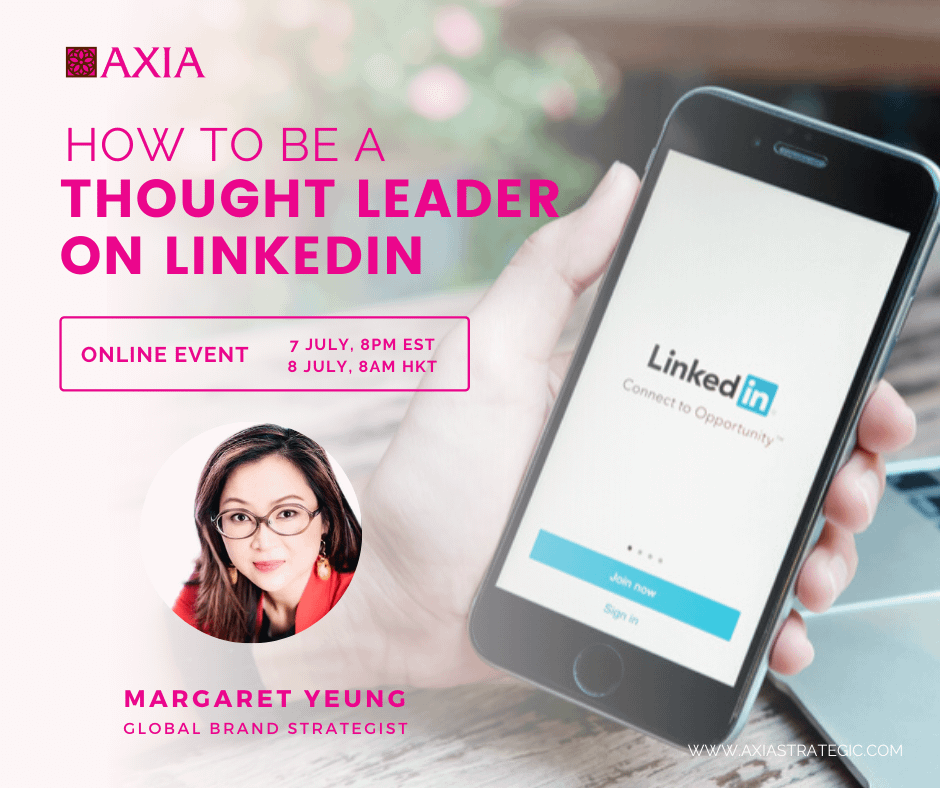 Building Your Personal Brand in 2020
featuring Margaret Yeung
NEW DATE: JULY 7th 2020, 7Pm UTC – $50-$80 HKD
Humans are natural-born connectors and the beauty of this is that everyone has their own way of connecting. Through strengthening our value, skills, and contributions to society, we can learn to bring stronger connections in corporate settings.
In this webinar, Margaret Yeung, CEO, and co-founder of AXIA Agency is going to share her knowledge on personal branding and thought leadership in the era of social media. Learn how to build reputation and trust, master your craft and network for the long run.
Did you miss one of our informative and fun webinars? Watch the entire webinar On Demand!
contact us
GET IN TOUCH WITH US NOW!